7 Ways To Up Your Home's Curb Appeal
Posted by Nicole Azzi Williams on Tuesday, February 9, 2021 at 12:04 PM
By Nicole Azzi Williams / February 9, 2021
Comment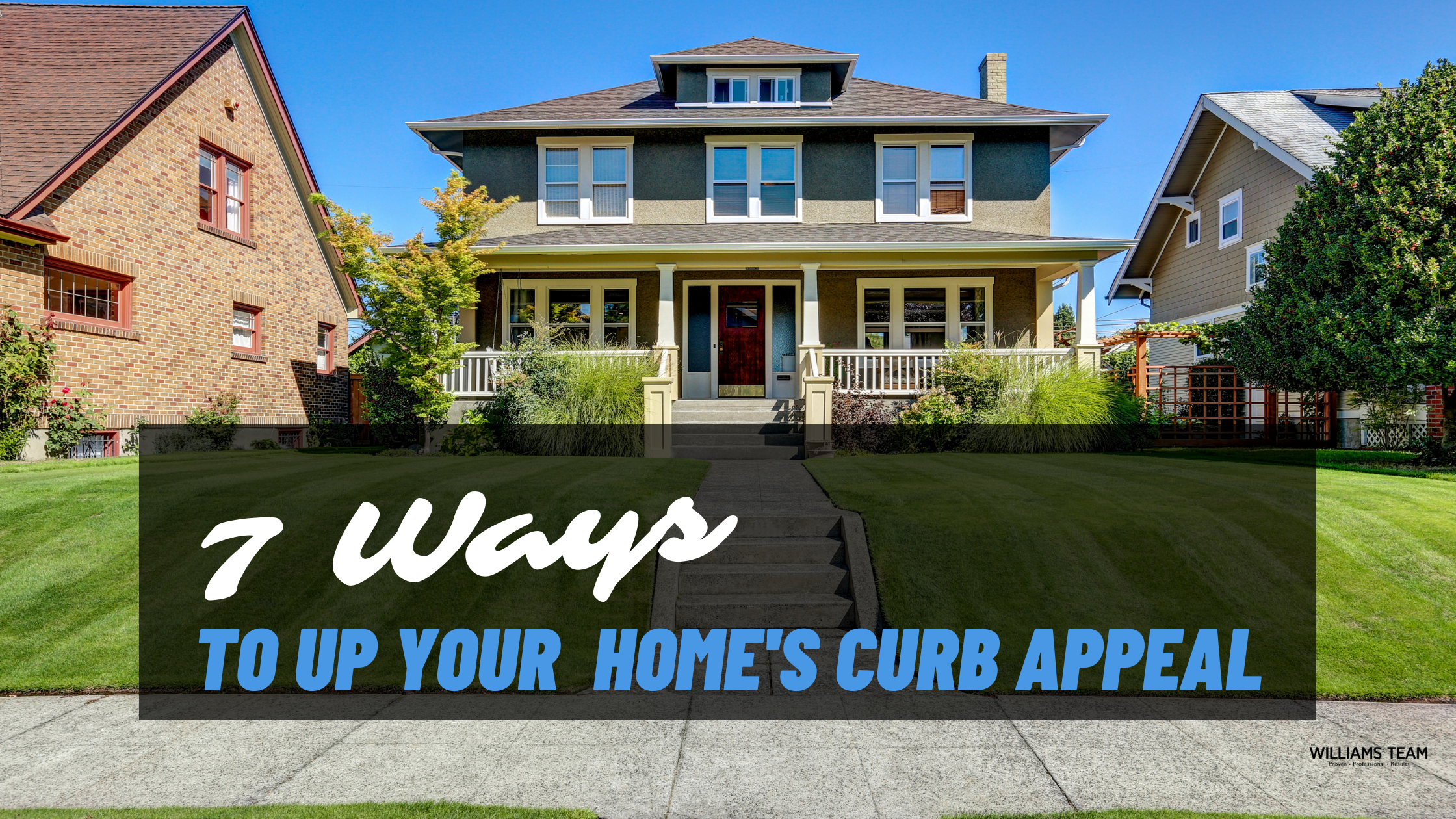 The weather is warming up some, and homes are flying off the market. Now is a great time to add some curb appeal to your home, and here are seven easy, mostly inexpensive ways you can spruce up your curb appeal.
Update the Hardware
House numbers, the entry door lockset, a wall-mounted mailbox, and an overhead light fixture are all elements that can add style and pizzazz to your home's exterior.However, if they're out of date or dingy, rusted or faded, your home may not be conveying the aesthetic you think it is. These elements add the most appeal when they function collectively, rather than as mix-and-match pieces and look fresh and clean. There are many finishes to choose from, but making them all work together is key! If they are fading, touch them up with some fresh paint, wipe them down if they are dingy and if it's just time for them to be replaced, this is one investment that is worth it! It truly makes a difference.
Spruce Up Your Door
Your home's front entry is the main focal point, generally, when it comes to the look of your home. Simple ways to make a statement include giving your front door a coat of color with paint or by installing a custom wood door. Make sure to clean off any dirty spots around the knob, and use metal polish on the door fixtures, to give them shine and polish. Your entry should also reflect the home's interior, so choose a swag, flag, potted plants or wreath that reflects your personal style.
Flair With Furniture
If you're lucky enough to have a nice porch, sized for sitting and enjoying the beautiful Louisiana days, welcome guests with comfortable furniture on the porch that invites them to pull up a chair and stay awhile. Rocking chairs that sway in the wind are often a calling card for guests and can make your home look very inviting. Even a small chair or a minuscule table on your porch can serve as a resting station between outside and inside and boost your curb appeal. The key is to make sure they add value to your look, by making sure they are modern, stylish, fit the decor of your home and are in good repair. Because your front porch is the public face of your home, seating can encourage guests to stay outside and engage with neighbors and streetside activity, too. It adds value to your home by showing that your neighborhood is warm and inviting as well.
Install Outdoor Lighting
Low-voltage landscape lighting often makes a huge impact on your home's curb appeal while also providing safety and security. Fixtures can add accent lighting to trees or the house or can illuminate a walking path, giving your home an aesthetic glow that will stand out above the rest.. If you aren't able to use lights that require wiring, install solar fixtures (but understand that their light levels are not as bright or as reliable). There are so many options available. If you have already installed these, make sure to walk outside at night and see that they are in good repair and condition.
Mailbox Makeover
Mailboxes should complement the home and if you're in a subdivision, match the feel of the area you live in. When choosing a hanging drop box, pick a box that mirrors your home's colors and design. Make sure your mailbox is in good repair- free of dings and scratches, has a nice coat of paint or stain and is in good repair. Surrounding your mailbox with a beautiful flowering garden is a geat way to instantly make your front yard more welcoming and approachable.
Renew Planter Beds
Get garden beds into shape by pruning growth, pulling weeds, and planting flowers. Add new mulch to restore color that was taken away by sunlight and harsh weather, or fresh pine straw to make your garden look fresh and clean. If stone or brick borders your bed, consider cleaning and resetting any pieces that are soiled or dislodged. If your border is old or tired-looking, try upgrading to stone or a decorative cast-concrete edging system which is sure to up your curb appeal.
Renew Paint, Siding, and Trim
An exterior update (new paint, siding, or trim details) automatically transforms the look of a home. While potentially a little more costly than the above ideas, periodic maintenance of the exterior surface is the surest way to keep your house and its curb appeal looking great. Check for and repair obvious defects, such as cracked or rotting material. This can downgrade the aesthetic and quickly turn away potential home buyers. This part should be priority number one. Once defects are repaired, look for ways to add personality with color, trim, or shingles.
If you'd like one of our agents to come out and look at your home and offer some ideas of ways to spruce up your home, give us a call. We are glad to help!