Bulletproofing Your Home Sale
Posted by Nicole Azzi Williams on Monday, June 15, 2020 at 10:37 AM
By Nicole Azzi Williams / June 15, 2020
Comment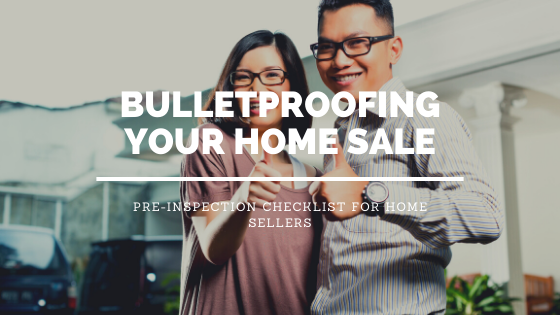 You've made the decision to sale your home. Congratulations! Now is the time, to take a look at your home or property and get ahead of the curve when it comes to the home inspection process, which is usually a must before a home sales.
As familiar as you are with your home, there are often issues that you will not be aware of, so let's chat about some things you may want to take into consideration now, before the home goes under contract.
Here are a few tips to give you a leg up on problems that might kill a sale or seriously devalue your home. Understanding what things to inspect before selling a home will put you on the right tract to a successful sale.
Roof
The roof is a big deal to buyers. It seals the home and protects everything inside, so it makes sense to ensure that it is fully functional. Roofs are also expensive to replace, which is why buyers often want to know the exact condition of your roof before they make an offer.
If they are going to have to repair or replace the roof soon, the offer will reflect that. You need to know the exact state of your roof as well, so you can determine what improvements you want to make, if any, before you list the home. There are usually some clear signs you need a new roof. With the storms and hurricanes that come with living in a coastal area, frequent inspections for hail damage, wind damage and missing shingles is always a good idea! A professional inspector can give you a reasonably good idea of how much life is left. Have you seen our interview with a professional roofer? If not, head over to IGTV and check our market moment links for the roofing inspection video.
AC Unit
We always recommend keeping your cooling and heating system at peak performance by having a contractor do annual pre-season check-ups. However, when your home hits the market, this is a great time to have your AC unit checked. Buyers often ask things like, when was the last time the unit was inspected and often ask to check how well the unit heats and cools the home.
Wood Rot
In nature, wood rot is a vital decomposition process, turning fallen logs into nutritious soil. But few things send potential home buyers into a panic as quickly as discovering it in a home that may interest them, because wood rot can lead to a number of structural problems, including deteriorated support posts and beams, rotted floor and ceiling joists, and destroyed roof decking. The cost to repair the damage—or, in other words, replace the rotted wood—can run in the tens of thousands of dollars. Regularly inspect your home for wood rot, missing weather stripping and dings in your siding. This can often be an easy fix, if caught in a timely manner and will also help your home show better cosmetically.
Other things you may want to self inspect, or even hire a professional inspector, include your plumbing and electrical systems for basic things that may catch a potential buyer's eye. One thing is almost inevitable and that is that, during the home selling process, once your home is under contract, there will most likely be a professional inspection requested so now is the time to pre-inspect what you can so that you and potential buyers are not caught off guard once that happens.
At The Williams Team, we offer a really simple yet detailed checklist of things you can check out on your own and we have a catalogue of trusted professionals you can call, should the need arise. List with us, we are here to help!