Community Spotlight: Covington
Posted by Nicole Azzi Williams on Tuesday, June 2, 2020 at 10:56 AM
By Nicole Azzi Williams / June 2, 2020
Comment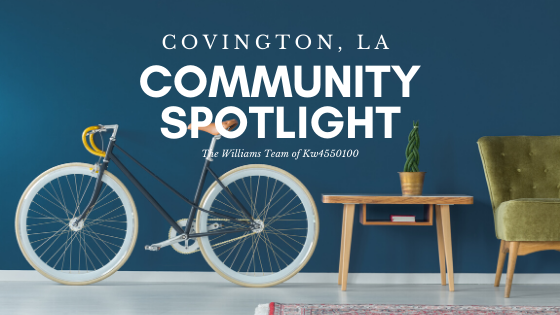 The picturesque town of Covington is located on the North Shore of Lake Pontchartrain, just north of Interstate 12. It is across the lake from the city of New Orleans and its southshore suburbs. A place the locals refer to as "The Northshore."
The city of Covington is nestled among three rivers. This charming community is very inviting, offering really amazing boutique shopping, some of the area's best restaurants, water sports galore, art galleries and family friendly activities nearly every weekend of the year. In Covington, history and culture are celebrated through music, food and the arts. Many residents of this quaint area take time to enjoy the many concerts and special events that take place here. Te strong sense of community and of civic pride, are the lifeblood of this town.
The historic part of the city of Covington consists of a unique collection of cottage homes and historic buildings. Special care has been taken to ensure the conservation of Covington's historic homes and buildings while also allowing for the modernization of its infrastructure. The downtown historic district is home to many turn-of-the-century cottages surrounded by ancient oaks and South Louisiana's lush, green foliage.
Today, Covington boasts a total population of about 9,000 residents. ts (2010). Located just a short commute from New Orleans, Covington is called home to many professionals who work downtown and families who are looking for a family friendly community that embraces the art and culture Louisiana have to offer.
Covington is the perfect combination of urban meeting natural. Whether you're looking for a gorgeous hiking spot or great biking trails, Covington is sure to satisfy everyone's hobbies. The Covington trail head is the start of Tammany Trace, a 31-mile paved rails-to-trails path for hikers and bicyclists, which connects Covington with Mandeville, Abita Springs, Lacombe and Slidell. Covington is the perfect spot to call home and unwind.
If you're looking for a city with a lot of culture and family friendly activities, a variety of shopping and dining options and plenty of nature sites to explore, look no further the than homes in Covington! Give one of our buyer specialists a call today to help you buy your new home in this fun town. We welcome you to come and experience Covington for yourself. You just might want to call it "home."