Community Spotlight: Mandeville
Posted by Nicole Azzi Williams on Tuesday, May 26, 2020 at 12:38 PM
By Nicole Azzi Williams / May 26, 2020
Comment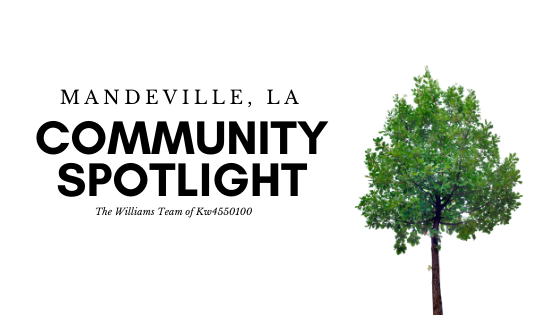 The beautiful town of Mandeville is located on the North Shore of Lake Pontchartrain, south of Interstate 12. It is across the lake from the city of New Orleans and its southshore suburbs.
The city of Mandeville was founded in 1834 by Bernard Xavier de Marigny de Mandeville (1785-1868). The Marigny family was a prominent family of Louisiana, owning nearly 1/3 of the city of New Orleans. Bernard inherited a fortune from his father, Pierre Enguerrand Philippe de Mandeville Ecuyer, Sieur de Marigny. Bernard resided in New Orleans; however, he maintained a rich and profitable plantation on the site of what is now Fontainebleau State Park. He went west of Bayou Castine (derived from a Choctaw Indian word "caste" meaning fleas), and purchased approximately 5,000 acres. There he planned to develop a prosperous new town. Louis Bringier, surveyor general of Louisiana, drew the town plans, according to Bernard's directive. These plans were notarized on January 14, 1834.
The historic part of the city of Mandeville consists of a unique collection of homes, which were constructed as summer retreats along the Lake Pontchartrain shoreline.
Many families were forced to give up their properties during the depression of 1837. Bernard, himself was required to sell his Fontainebleau Plantation in 1852. Mandeville was inhabited by very few people during the Civil War. Union troops under the command of Major F.H. Peck occupied the town. By the late 19th century, Mandeville's lakeshore resort town image began to increase in popularity once again. The steamship-ferry service from New Orleans continued until 1936. Rail connections through eastern St. Tammany Parish from New Orleans became another mode of transportation. However, the current immigration growth is the direct result of the opening of the Causeway Bridge in 1956.
Today, Mandeville boasts a total population of about 12,000 residents. ts (2018). Located just a short commute from New Orleans, Mandeville is called home to many professionals who work downtown and families whose children attend the highly-ranked school district. From classic colonial homes and ranch style homes to breathtaking estates with sweeping views of Lake Ponchartrain, Mandeville real estate is comprised of a wide variety of housing options available for residents in all different stages of life.
Fun fact: Mandeville is also home to the largest certified southern live oak tree, the Seven Sisters Oak.
Mandeville is the perfect combination of urban meeting natural. Whether you're looking for a gorgeous hiking spot or great biking trails, Mandeville is sure to satisfy everyone's hobbies. Residents are sure to enjoy the Fontainebleau State Park, ample yachting and boating places, paddleboarding or bird watching. To complement its well-established, wooded suburbs, Mandeville offers a full complement of upscale amenities. These include fine dining establishments, shops and day spas – the perfect for unwinding after a visit to New Orleans.
If you're looking for a city with an excellent school system, a variety of shopping and dining options and plenty of nature sites to explore, look no further the than homes in Mandeville! Give one of our buyer specialists a call today to help you buy your new home in Mandeville.