Crawfish- Both a Legacy and a Delicacy
Posted by Nicole Azzi Williams on Tuesday, February 23, 2021 at 12:04 PM
By Nicole Azzi Williams / February 23, 2021
Comment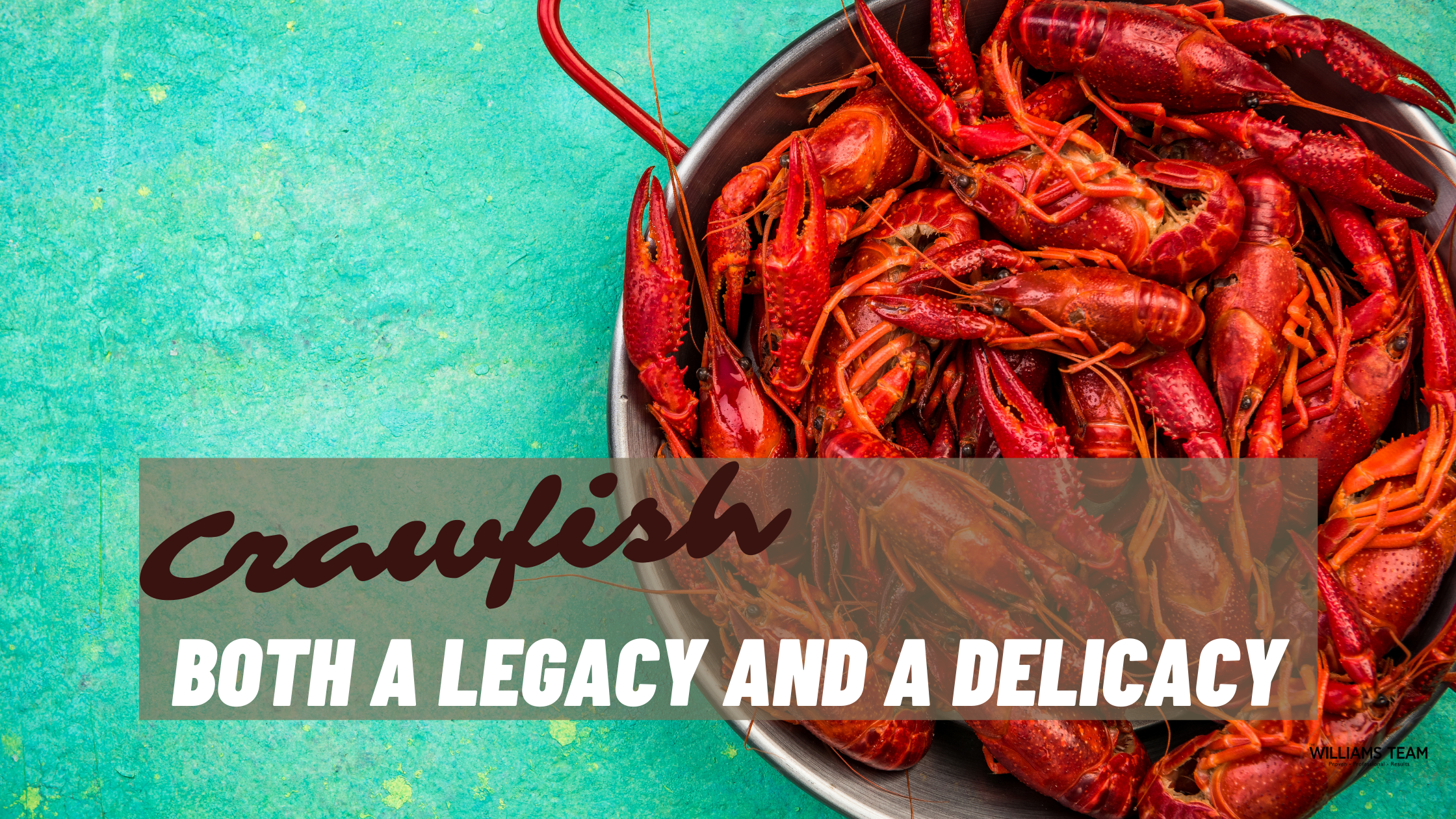 If you've been in Louisiana for a little while or a long while, you're sure to understand the significance of the delicacy we call "crawfish."
For most Louisiana friends and families, on the weekends, propane tanks can be heard burning under huge pots of boiling water filled with seasonings and crawfish. While the pots are being slowly stirred by the family "crawfish king/queen" (you know we all know one) hungry, yet patient friends and family stand in wait in backyards throughout the area.
Crawfish is more than a local delicacy—it's a dedicated food group and residents mark its season on their calendars, or the die hards know it by heart. Crawfish are the centerpiece of springtime birthday parties, graduation celebrations, family reunions and family gatherings. Trying crawfish is the culinary highlight for many visitors.
However, did you know about the history of crawfish? It intersects with Louisiana's agriculture and religion, both integral parts of our state's identity. Legend has it that crawfish were first harvested from the deepwater of the Atchafalaya Basin and later became a farmed commodity when farmers turned their flooded rice fields into crawfish ponds to meet demand. Take a drive through that area one weekend and you will see the fields for miles and miles! Crawfish are the gastronomic staple of the Lenten season during which Catholics abstain from meat on Fridays. In the past few decades backyard boils have grown exponentially in popularity. In the 1980s, technological advances changed menus and parties forever because live crawfish could then be shipped safely around the country, subsequently generating a groundswell of popularity.
Imitation is said to be the sincerest form of flattery, but at The Williams Team we believe that if you want to suck some heads and peel some tails, the only place to do it is in south Louisiana. More crawfish history was made when, on March 7, 2017, Louisiana Lieutenant Governor Billy Nungesser proclaimed Emile the crawfish as safe from boiling at Zatarain's first crawfish pardoning event in New Orleans. Named after the Louisiana company's founder Emile Zatarain, Emile the crawfish was set free in Bayou Segnette State Park to enjoy a life free from worry of becoming part of a delicious Cajun feast. When do you eat them? The season tends to peak in April but depending on weather, crawfish season can start as early as November and last through the following June.
We believe that to experience a crawfish boil is to experience everything that makes Louisiana amazing: the authenticity of the culture, the joy of celebrations, and the most delicious and varied food to be found without crossing an ocean.
Have a hankering for crawfish but can't locate a backyard boil? First off, ask us for an invite, because our team is always boilin and we love hosting our friends and family! But also know that restaurants across the area serve up this same experience. Boiled crawfish is offered by the pound—three pounds is a good starting serving size (depending on who you ask!!!). The customary sides of corn on the cob, potatoes and maybe sausage or mushrooms are boiled with the crawfish to soak up the flavor. Remember the crawfish king/queen of the family we mentioned above… well the same goes for add-ins! Everyone who boils usually has something unique they add in to their boil. Whatever they throw in, try that.
The best part of the crawfish though, is that they take time to eat. This gives you time to visit with friends and family face to face. Hint, hint, it's hard to hold a phone while peeling, so if you love those dinners with friends, where no one is on a device, a crawfish boil will be such a delight for you! We highly suggest it. Enjoy the season!