Design Through The Decades: The Eighties
Posted by Nicole Azzi Williams on Thursday, July 16, 2020 at 8:34 AM
By Nicole Azzi Williams / July 16, 2020
Comment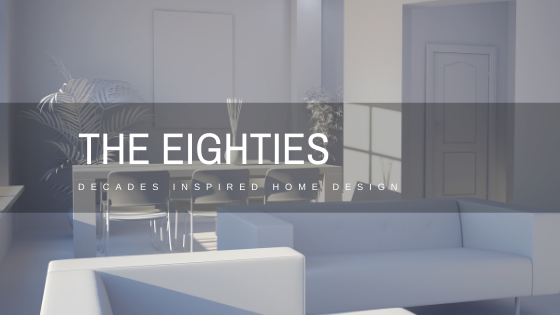 This is totally radical!
When you think 80's home design, what immediately comes to mind? We want to know!
It's time for throwback Thursday and today we are hopping back to the Eighties to talk about some totally awesome home design elements of the decade. To recreate an '80s motif in a room, we are exploring elements of the era's popular colors, patterns, designs and pop culture.
Surfaces
One of the most recognizable hallmarks of 1980s style is bright or neon colors. While a pop of neon here and there evokes memories of the decade, neon walls would be pretty overwhelming, but really look rad if done right. Try painting the walls white or gray, then adding a bright solid or splatter-painted accent wall. Apply a paint-splatter wall decal if you don't want to deal with the mess of splatter painting. Wall-to-wall carpet was all the rage in the 1980s, but if your room doesn't have carpet. One idea is to substitute with a bright, geometric, graphic print area rug. If you want to avoid an overly bright room, opt for the gray, mauve, dusty blue, peach and teal hues that were also popular at the time. (hello Golden Girls!)
Furniture
Oak furniture gained massive popularity during the 1980s, especially in traditional or country design, along with a large dose of floral or farm themed upholstery and fabrics. For a more glam version of the '80s, try leather or vinyl, glass and metal details. Satin sheets and a bold, graphic comforter will totally rock for a bed. Another popular furniture style of that decade was Southwestern print, which often features the mauve and turquoise color scheme favored at that time.
Art
One of the best ways to transport a room to the 1980s instantly is through iconic art from the time. Look for posters featuring popular 1980s bands, celebrities and cars. Pin them to the wall unframed or look for simple frames with shiny metallic and colorful finishes. Or, hang prints by artists popular at the time, such as Patrick Nagel.
Accessories
Complete your 1980s room with iconic toys and accessories, such as a Rubik's cube, an old boom box or a landline telephone from the time. If it's a kid's room, add Cabbage Patch Kids, Care Bears, My Little Ponies, Ninja Turtles, Transformers, Garbage Pail Kids and other quintessential '80s toys. For a more serious room, take a cue from '80s Deco style and add glass blocks, round frameless mirrors and tropical potted plants. Large frameless mirrors or mirrored closet doors also make a good addition. Head on over to Netflix or Hulu to find TV shows from the era and take note on the special elements you like from the homes on the sets of the show you love!
For too long now, people have cringed at the very mention of the '80s interior design. Today, when this decade is more than 30 years behind us, it has finally earned the label 'retro', which makes it a new source of inspiration for modern-day home design. You don't have to wait for someone else to tell you how to incorporate the '80s pizzazz into your home, just find a style you like and adapt it to your current surroundings.