Design Through The Decades: The Fifties
Posted by Nicole Azzi Williams on Thursday, June 25, 2020 at 9:38 AM
By Nicole Azzi Williams / June 25, 2020
Comment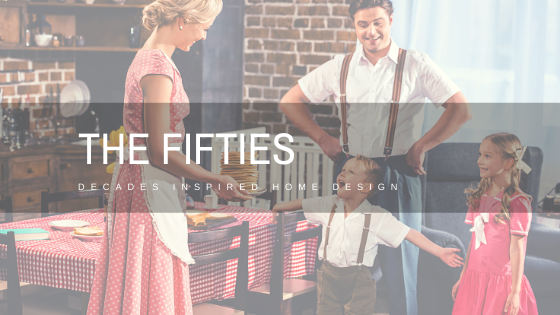 The 50s style is a great era to look for when looking for a classic, yet timeless design plan for your home.
1950s Decorating
Have you ever noticed that the colors used in the 1950s were mostly pastels? These colors included soft pink, mint green, butter yellow, baby blue, and turquoise (similar to the popular current turquoise). Red and other bright colors were eventually added for dramatic decors.
50's style living room
Wallpaper was a popular décor item in the 1950's and often used in foyers, kitchens, dining rooms, bathrooms, and bedrooms. And is making a comeback in modern home décor in this decade! Damasks and floral patterns were popular wallpaper choices for formal foyers.
Wallpaper murals above chair rails were a popular choice in dining rooms along with damask and other formal styles and this is also something you may find when looking at high end home design in our modern times. The fifties truly were an inspiring decade for so many!
Paneling
Knotty pine paneling was all the rage during this decade of design, and it was a very sought after den (family room) wall treatment. Many homes showcased paneling for breakfast rooms and kitchen cabinets. These weren't just plain panels. Each was cut in the Pickwick tongue and grove style with a warm glowing golden finish.
The 1950s Bathroom
The 50s bathroom was often a vision in pastel with pops of darker colors, as we are sure you know. However, did you know that the two most popular bathroom tile colors were soft pink and baby blue? Believe it or not, we still see these tiles when we go on listings for homes built during this era! Do you think they may make a comeback? Mint green, a popular 1930s-bathroom color, was also still very popular in the 1950s décor. Popular wallpapers for bathrooms included nautical, seashells, flowers, and butterflies.
Bathroom Fixtures and Accessories
Bathroom wall and floor tiles remained a status symbol, and white pedestal sinks were popular choices. Darker bathroom accessories were often used to provide contrast and depth.
Adding the 50s to Your Bathroom
Some simple ways that you can add this nostalgic look to your bathroom would be by introducing pastels with bathmats, shower curtains, towels, accessories, and wall art. Paint the remaining wall a matching or contrast color and install a pedestal sink. Add some accessories with 50s style bathroom wallpaper themes, such as shell soaps or nautical items.
The Kitchen
Cherry red checked kitchen décor was so popular, and is most likely what you think of when you think of the classic 1950's style kitchen.
In the kitchen, pastel colors were also often used for appliances, cabinets, kitchen furniture, and floors. The black and white checkerboard floor pattern was popular in diners, cafes, and soda shops and made it's way into kitchens, as well. The wallpaper patterns used in kitchens were traditionally kitchen oriented such as fruit and vegetable patterns and gingham prints.
Integrating 1950s Kitchen Color Style
You may decide you only want a touch of this retro look in your kitchen. You can accomplish this look easily with a chrome kitchen table and chairs in your favorite vintage color. You may want to exchange your appliances for the gentle curves and pastel choices found in the 1950s appliance reproductions with modern technology features. There are some really cool options out there!
1950s Style Tips for Your Home
Add a few minimalist touches to your den with a Scandinavian styled coffee table or end tables.
Home bars with bar stools were popular in the 50s. You can add this furniture group to a den corner.
Swap out a recliner for an Egg Chair reproduction complete with an ottoman.
Use the popular Atomic and boomerang motifs in bedding, art, draperies, or wallpapers.
Buy a classic 50s bookcase headboard with sliding doors to add a flair of bedroom nostalgia.
Choose a mid-century modern lamp or a pair of lamps for bedroom nightstands or living room end tables.
It's your home and you can use as much of the 1950s style in your home décor as you desire! These nostalgic touches can give your rooms an extra layer of interest and depth. What's your favorite 50's inspired kitchen look? We want to know!