Design Through The Decades: The Forties
Posted by Nicole Azzi Williams on Thursday, June 18, 2020 at 11:08 AM
By Nicole Azzi Williams / June 18, 2020
Comment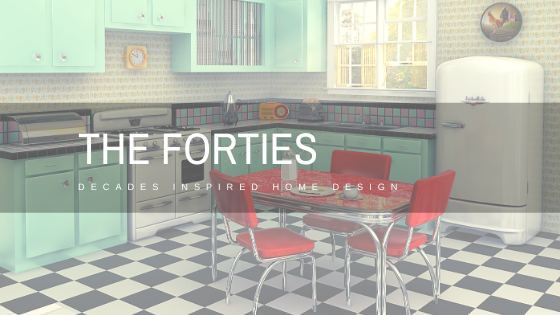 Design Through The Decades: The Forties
The 1940's was quite the era when it came to colors and patterns that still inspire home design today!
The decade was on the cusp of two primary color palettes. Art Deco encompassed the '20s through the first part of the '40s. During this era we noticed a shift to lighter and more neutral shades with metallic undertones. Popular accent colors were exotic pastels to offer that pop of color. The Mid Century Modern palette (1940s through 1960) inspired designer to lean toward bold colors and deep tones. Earth tones were popular for exteriors of homes. Among the most popular interior colors were were navy blue, yellow, red and white, and light green.
Fabrics
Floral patterns were popular for bedrooms, living areas and wallpapered bathrooms. For the kitchen and dining room often boasted cherry or apple motifs, gingham, checks, roosters and chickens.
Furniture
Even though we normally attribute this to the 1950s, it was actually the 1940s that introduced chrome dinette sets with Formica tabletops. Other accents that became mainstream in the 1940's included glass drawer pulls, and chrome and vinyl stools. Bentwood furniture and decor – made by soaking or steaming wood and bending it into curved shapes and patterns – were coming into fashion and is a style we still see utilized today.
Flooring
Linoleum – especially in bold geometric patterns – was top choice for the kitchen. The material was strong and lasted many years, despite the fact it required lots of regular maintenance to keep clean and shiny.
Plenty of pre-existing homes had hardwood flooring throughout the house, often made from local species of trees. After WWII, though, carpeting became less expensive and hardwood became a style of the past, however, as we all know, we have circled back around to this functional, sustainable flooring lately. Living rooms, dens and bedrooms were updated with wall-to-wall carpeting made from synthetic fibers.
Accessories
For the kitchen, canisters in chrome or enamel were available in a wide range of colors. Popular color choices were red, white, cream or green. In larger kitchens, canisters sat on countertops rather than in pantries. Popular for the kitchens of this era were the metal breadbox, jadeite dishware and covered cake servers.
For living and entertaining areas, decor was flowery yet simple, and well put together. Grateful for the return of husbands, sons and brothers, family and closeness was key, and home design often conveyed this. Wood decor was still popular, as were clocks and sunny pictures.
Overall Look
While the mid- to late-1940s introduced many new design concepts and materials, most households still kept it simple when it came to the overall look of a room. The main focus in the classic home of the 40's was put on the family, so open space was key. Even in modest homes, updates were often made to "brighten" the look in the shift from wartime to peacetime. Clutter-free was essential, even in family rooms and bathrooms, as everything had its place. As far as organized design, more homes than not followed the pattern made popular in many catalogs and ads.
Do you live in a 1940s home? Or one designed with the '40s in mind? We'd love to hear your story and see pictures!