Design Through The Decades: The Seventies
Posted by Nicole Azzi Williams on Thursday, July 9, 2020 at 12:48 PM
By Nicole Azzi Williams / July 9, 2020
Comment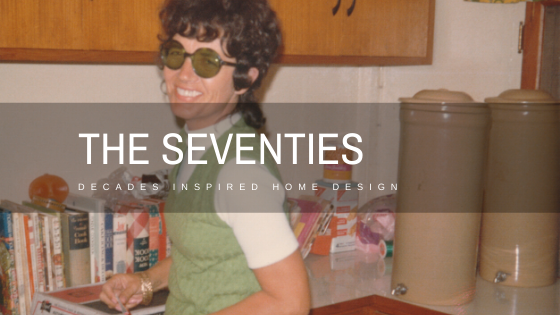 Ahhh, the Seventies… Either you love it or you don't, but the decade's contributions in architecture, furniture design and interior decorating is something not to be ignored...
The 70s was a study in contradiction: rigor and decadence, drab earth tones and campy colors, nature-loving hippies and high-tech futurism. Many may argue that the decade was a significant turning point for interior domestic design. Self-expression and individuality were true trademarks of the time. Of course, self-expression can manifest itself in ways some may think are hideous, whether in the gloomy wood-paneled rec room or the bedroom saturated in super bright colors. Not to mention the macramé tea cozies, spider plants, the shag toilet seat covers. I could go on. But a lot of what we think of as 70s was actually a hangover from the 60s, many still consider an enthusiasm for technology and psychedelic excess. Some still embrace and are inspired by these looks even today!
Here are what some consider interesting, inspiring, features of 1970s design:
Back to Nature
70s style was greatly influenced by the back-to-nature movement, which arose from both a hippie rejection of consumerism and materialism and a renewed environmentalism following the 1973 oil crisis. Architect S. Claire Conroy points out that many 70s architects were early adopters of new energy-efficient technologies and designed houses "as organisms that mesh with their surroundings—living, breathing, and changing together." Big windows and skylights were popular, as were indoor gardens and elevated or stacked stone fireplaces. While high-tech plastics were obviously big in the 70s, so too was teak and pine furniture. Earth-toned terracotta tiles, hanging plants, exposed ceiling beams, wicker furniture and harvest-gold appliances may have some aesthetic appeal on their own. Many people are now embracing one (or even all) of these natural elements when it comes to home design.
Open-Plan Living
While many rooms in the 70s resembled wall-to-wall carpeted, wood-paneled dungeons, residential architecture of the time was actually very innovative when it comes to light and space. In many ways, the 70s introduced the concept of "open plan living," a design element we hear people looking for in their new home almost every day! Many homes had massive windows, spiral or "floating" staircases, interior second-floor balconies and vaulted ceilings. Often the living room was spread out over multiple levels, sometimes with a sunken seating area. Think of the Brady Bunch home and you get the picture. You may not like the look but you have to admit it was pretty radical. Studies and home offices started being built, again, think The Bradys. Kitchens expanded to accommodate more cabinets and countertop space at a time when Julia Child's cookbooks were best sellers. Many kitchens had islands or breakfast nooks, bringing the family into a room once reserved solely for women or staff.
Color. Loads of color.
Love it or hate it, the 1970s was a colorful time in interior design. For every drab earth-toned room there was an equally colorful one. Today there is a lot of talk of "pops of color." In the 70s it was more like "explosions of color." When we think of homes in the 70s we think friendly! Outlet t covers were brightly colored, as were the toilets themselves. Lamps, bedspreads, walls, and furniture: Nothing was spared the Technicolor rainbow.
Decade of the Ranch
From the outside, most 70s homes were kind of unflattering. There were the post-and-beam style homes, A-frames, domes, cubes and A-frames. However when our team thinks of the outside designs of the decade one thing comes to mind, the king of the 70s home - the one-story ranch. In 1975, 60% of new single-family homes were one-story. Outside the house, you were likely to encounter a Hibachi grill, blacktop driveway and concrete patio, and a metal swing set. The average American house was much smaller, at 1,700, than what we see today.
A 1970s Checklist for those that want to add a touch of this decade to your home decor:
• Crafts revival (macramé. string art, embroidered wall hangings, afghans)
• Scandinavian teak and pine
• Sleek plastics and high-tech materials
• Avocado green and harvest gold appliances
• Bold patterns and prints (flocked wallpaper, flower prints)
• Stacked stone fireplace and stone walls
• Timbered ceiling beams
• Exposed brick walls
• Terracotta tiles and hardwood flooring
• Metal (chrome, polished steel)
• Geometric shapes and lines
• Thick and chunky masculine furniture
• Wood paneling
• Skylights
• Atriums
• Indoor gardens
• Big windows and lots of glass
• Wall-to-wall carpeting
• Sunken living rooms
• Floating staircases
• Wicker furniture
• Shag rugs
• Earth tones: brick, rust, sand, avocado, harvest gold
• Brightly colored furniture
• Orange
What does the 70s home remind you of?
Are there elements of 70s design you loved?