Design Through The Decades: The Sixties
Posted by Nicole Azzi Williams on Thursday, July 2, 2020 at 9:44 AM
By Nicole Azzi Williams / July 2, 2020
Comment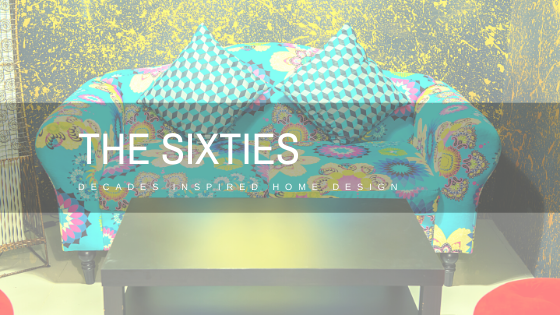 The Sixties
The music, the clothes, the patterns! To say the Sixties were an exciting time in American style history is an understatement. Though we believe this can be said for every decade of our past, there's just something about the Sixties. America was changing. New ideas were flourishing. Rebellious thoughts and wild trends were making their way to the mainstream. During this time, culture was in the forefront and varied and many issues both politically and socially were being addressed. The Cold War was going on; tensions were high and a stream of anxiety flowed through everyone's seemingly cool exterior. Conflicts like the Vietnam War made for tensions between differing political sides.
This decade was also a truly exciting time for technology and science. The Space Race sparked the imagination of millions as they all watched as man walked on the moon. Immense progress was made in electronics, with new technology appearing nearly every year. There were huge leaps in manufacturing processes and you started seeing furniture made out of molded plastic and turned into pretty far out organic shapes.
The 60's was a jet-setting era of luxury, flamboyance and excess. Perhaps in contrast to previous decades, where the economy necessitated that we be a little bit more understated with our home lives, you saw interiors of the time that were not only on the cutting edge of style, but ones that were highly personalized. People spent a lot of money on their homes because it was very much a statement of not just your wealth and success, but who you were. Perhaps most of all, there was a sense of fun. Most people loved to entertain, and fun colors, fun patterns, experimentation with new technologies, new ideas, and new furniture layouts reigned supreme. The Sixties were swingin' and so were the interiors.
Upon our reflection of the decade, here are a few things the team liked about 1960s design that we love seeing again:
• Bold color palettes
• Brightly colored, textured rugs and rugs made in India and Morocco
• Pink plus red
• Jaw-dropping patterns like Tie-dye, psychedelic, paisley and floral fabrics and ethnic prints
•Lots of black and white contrasts (Nicole has a partiality to this!)
• Scandinavian-inspired vintage wood pieces or handmade, modern-inspired today pieces
• Wallpaper
• Interesting accessories
• Flat pack furniture, "S"-shaped or pod-shaped furniture or furniture made of molded plastic
• Open-shelving room dividers
• Pop Art!
• Geometric shapes
• Lucite and colored plastics used for furniture and home accessories.
• A clean, open look
Décor elements from the Sixties we could do without:
• Shag carpeting
• Wood-paneled walls done wrong
• Shag carpeting
• TV trays
• TV being the center focal point of the living room
• Design elements like Siamese cats, mushrooms, roosters, daisies
• Shag carpeting (wait, did we mention this yet?)
• Lava lamps
• Beaded curtains
Because this is arguably one of the most beloved eras of interior and furniture design, most people tend to define its style in many different ways. We'd love to know what defines that decade for you. What colors, patterns and textures remind you of that era? How do you interpret this decade's great look for your own home? Please let us know!