Design Through The Decades: The Thirties
Posted by Nicole Azzi Williams on Thursday, June 11, 2020 at 10:05 AM
By Nicole Azzi Williams / June 11, 2020
Comment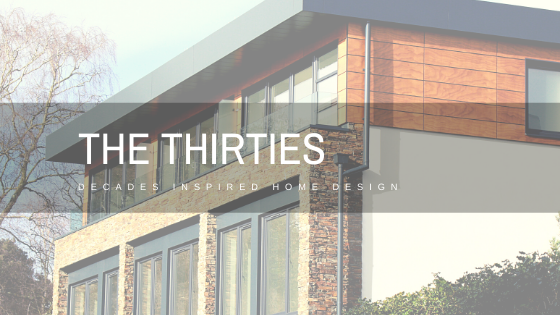 By the 1930s, Modernism had firmly taken hold of the world. Society was moving past starchy, buttoned-up, heavily brocaded Victorian era and anything of the like. Poured concrete in construction would be the end of load-bearing walls. This made way for larger interior spaces and larger windows through which to view them. Plastics were born during this time. The era swept away ornament and embraced the beauty of functionality. Color, determined by theory, not dictated by history, status, seemliness, wealth, or rarity of materials was becoming ever so popular.
According to an article by Apartment Therapy, "Stylistically, there were several design influences at play in the 1930s, depending on your reference points: Frank Lloyd Wright (Fallingwater; the Johnson Wax Headquarters, a prairie color palette), Corbusier (anti-bourgeoisie, color as theory), Art Deco (furniture in the 20s, architecture in the 30s), Hollywood films (from Grand Hotel to Oz), and MoMA. But this was also the time of the Great Depression and the run-up to World War II, so perhaps color for interiors were somewhat muted in keeping with the times."
Simplicity and open spaces called for a much more subdued palette of pale tints over the heavy pattern-on-pattern motifs and rich colors of previous decades. This was the age of the machine, which inspired streamlined and pre-fabricated — dark was out, light was in. These are some of the dominant colors of the 30s: jade, celadon and seafoam green, pale gold and grassy tans, pale silvered almond and walnut. You'd be pressed to find a lot of red or warm tones in this decade or saturation or drama.
If you're looking for some 30's inspiration, we suggest heading over to pinterest because the 30's inspiration, while often overlooked, is real, y'all. This was a decade of change, style and class and is sure to inspire when you're thinking home design.
What decade has been most inspirational to you when it comes to lifestyle and home design? We would love to hear!