Design Through The Decades: The Two Thousands
Posted by Nicole Azzi Williams on Thursday, July 30, 2020 at 9:12 AM
By Nicole Azzi Williams / July 30, 2020
Comment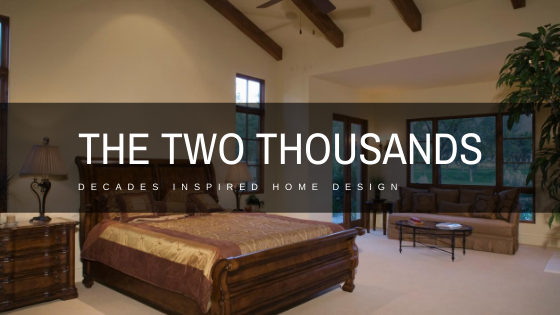 Y2K - speaking of a throwback...
Looking back, the 2000s may not feel like a decade of great design innovation, but we may beg to differ. So many things about the 2000s were faux-textured (and often shiny), oversized to the max, and fabulously beige. But the decade inspired so many designs that we take for granted today — like open-plan kitchens, custom cabinetry and in-home theater rooms. Here at the team, we are really grateful for so many 2000s inspired things in the homes we view… and then there are some that we just wish were gone forever. Here are a few that come to mind, when our team things the 00s:
White Cabinetry, Dark Countertops, and Stainless Steel Appliances
These three trends were what we call the holy trinity of '00s kitchens. Separately, they're not entirely offensive, and in fact, we love them each in their own element… — but combined, they bring back memories of Hollaback Girl and President Obama's first inauguration, things you either love and appreciate or don't.
Shabby Chic
Nowadays, we have moved more toward shiplap and white on white — but in the late 2000s, shabby chic decor was everywhere... If we could distress it, we did. Most homeowners soon realized that distressed paint looks best when paired with actual countryside, but to each their own.
Oil Rubbed Bronze
This '00s trend is making its way back — and we aren't mad about it. Today, most are adding touches of oil rubbed bronze to their new homes and its fabulous. Ten years ago, oil-rubbed bronze was everywhere and not so subtle.
Damask
Maybe it's because we all considered ourselves royalty, but bedspreads were bold back in the '00s, and damask was the king of the patterns. This luxurious woven pattern feels like it belongs in a castle — and everyone thought themselves royalty. Do you think it should make a comeback or stay in the castle?
Open Floor Plans
This is one trend that our entire team gives a round of applause and an encore and standing ovation! Every homeowner who decided to knock down that kitchen wall deserves a grand hurrah, you're our hero.
It's a fact: Home decor styles come and go, and what's hot today might be behind the times tomorrow.
We hope you've enjoyed our summer series Decades of Designs!