Design Through The Decades: The Twenties
Posted by Nicole Azzi Williams on Thursday, June 4, 2020 at 10:12 AM
By Nicole Azzi Williams / June 4, 2020
Comment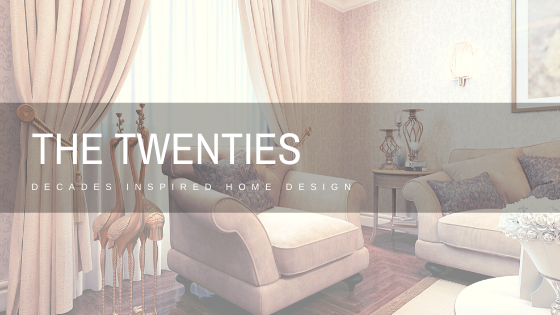 Design in the 1920s was all about art deco, with glamor and sophistication at every turn. Trendy elements were in abundance, often used to romanticize the Big City, with décor resembling geometric skyscrapers and an over-abundance of shiny surfaces and metals, like brass and gold. Curved lines were everywhere, from sloping walls to rounded furniture, and color palettes were largely neutral with vibrant pops of deep red, forest green, peach and powder blue.
They say what goes around comes back around, and this is ever so true- even in home design!Lately, it seems that the roaring '20s are coming back just in time. If the 20's inspire you and you're looking to redefine your space for the new decade, you might consider few of the following flapper-era interior trends in your space.
Go Bold With Color
Admittedly, art deco interiors aren't minimal, neon- or rainbow-hued. Color tends inspired by this era seem to be relatively moody/noir. We've also noticed, art deco also incorporates pops of deep, rich colors, like teal, forest green and wine red. Generally, jewel tones are more traditional art deco, but you can modernize it with brighter tones, like tangerine, powder pink or electric blue. You shouldn't be afraid to paint at least one wall in a bold color,or even simply use accent décor like throw pillows or sculptures to bring color in elsewhere.
Think Geometric
Skyscrapers, for man, this is what defines that art deco style — largely because so many of them went up during the roaring '20s and created a cycle of influence on design. Their straight lines and angles inspired so many interior designers of the era, and geometric shapes became important elements of the style. These are pouring over into modern home design even in our current times!
Fortunately, for art deco fans, there are dozens of ways to add geometry to your room without major renovations. Did you know there are many non-permanent ways to deco up your space like wallpaper? Choose a wallpaper with patterns of golden metallic sheen, and skyscraper inspired patterns. Another option is to buy furniture with more geometry, like geometric-patterned fabric or lines reminiscent of skyscrapers.
Other ideas include adding grand designs if your motto is "go big or go home!" a grand spiral staircase may be something you look to add to your space! Or, go exotic, scour pintrest or your favorite design inspiration website for exotic 20's patterns and you will find them in abundance! The 20's were really inspiring times for fashion and home design, and we have had a blast reflecting on Throwback Thursday! If you have 20's art deco elements in your home, we would love to see! Please tag us in your photos!