Not On My Watch! 5 Mistakes Home Buyers Are Not Allowed To Make
Posted by Nicole Azzi Williams on Monday, June 22, 2020 at 9:03 AM
By Nicole Azzi Williams / June 22, 2020
Comment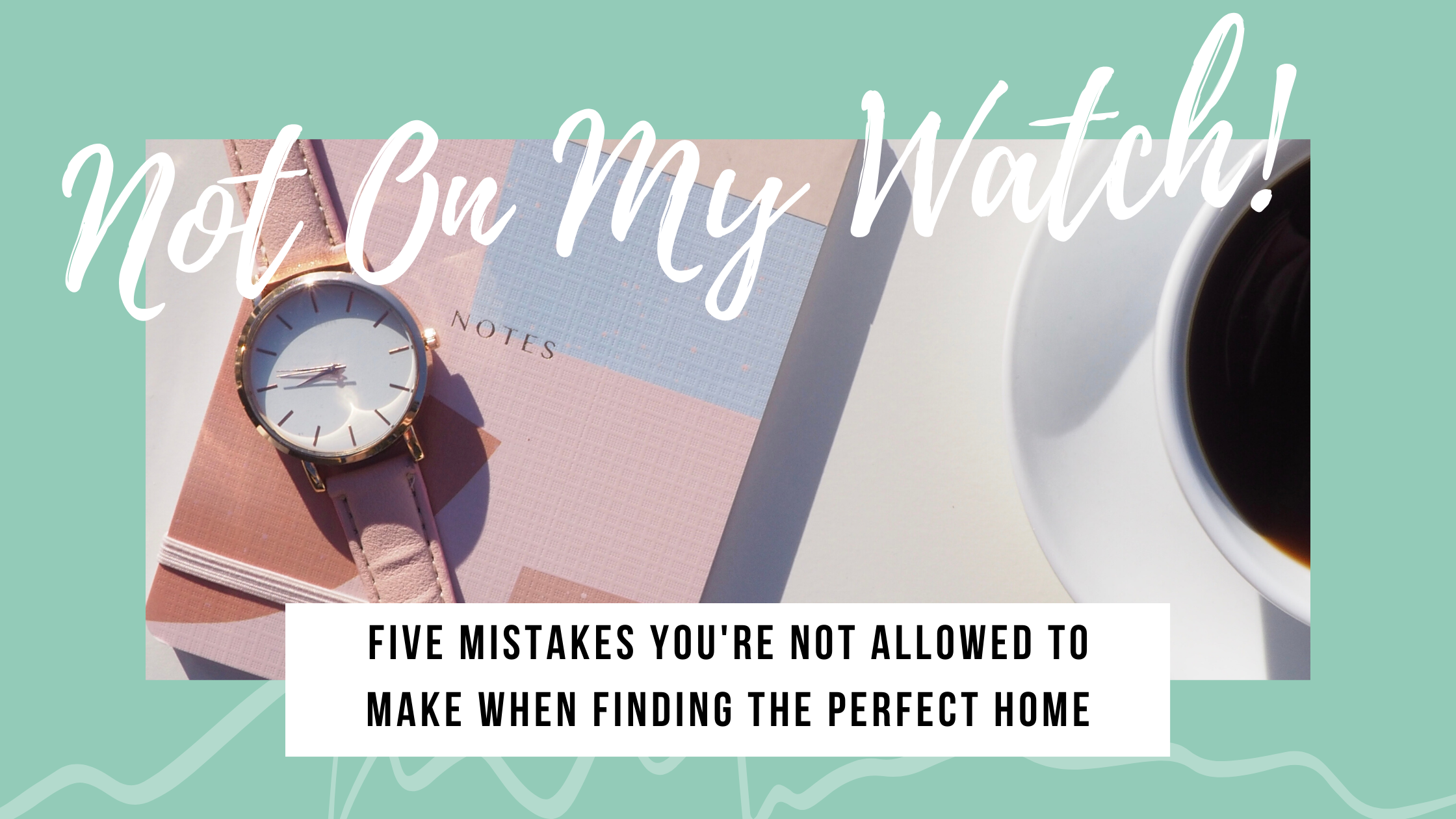 Not On My Watch!
5 Mistakes We Won't Allow You to Make During Your Home Purchase
Without the right agent, buying a house can be a stressful and nerve-racking time, regardless of whether you're a first-timer or a veteran buyer. Lucky for you, when you find the right agent, this stressful time can become somewhat easier, all because you place trust in the professional you have chosen to represent you during your home purchase! A trusted agent understand that unexpected problems can and will pop up – and, if you will lock arms with them through the process, you can avoid many things that sometimes impede the home buying process. While often unpredictable, the more you know about the process, the easier it is to avoid serious mistakes. Let's look at some of the top house-hunting mistakes people make—and how to find a house the right way. When you work with us at The Williams Team, these are the top 5 mistakes you're not allowed to make- not on our watch!
Trying to time the market
When you are ready and able to buy a house you are not allowed to stay on the fence! Perfect timing is often impossible and you may end up actually chasing the market instead of the market pursuing you. When do you know you are ready? You have made a decision. You've made a best and final offer with yourself, to be committed and all in to find the perfect home. Are you able? Able simply means you have been pre approved and know your budget. Did you know that getting pre approved is a somewhat simple task and there are professionals standing by to help you understand the pre approval process now. Please understand that timing is always situational- it all depends on YOU, your readiness and your ability. If you have both of those, then what are you waiting for? Let's get off the fence and get to work!
Avoiding Sleeper Costs
A trusted agent with a proven track record will help you have the "sleeper cost" conversation. What are sleeper costs? They are things that we often time find home buyers don't want to discuss, yet they are an absolute reality! Things like: taxes, HOAs, utilities, maintenance ... the inevitable costs associated with owning a home. At The Williams Team, we will help you discover these costs so that you are prepared for long term occupancy of the home that you eventually fall in love with. This leads us to our next "not allowed" topic:
Falling in love prematurely
Like Beyonce says, if you like it, you better put a ring on it! In the case of home buying, a ring on it, simply means keys in hand. So don't fall in love until you have those keys, at which point, you're allowed to fall and fall hard. We know that a home is where the heart is, and that this should be a space that you and your family fall in love with. However, sometimes things happen during the act of sale that lead to a broken heart. We will always be there for you, but like any good friend, we are going to do our best to help you avoid that broken heart and cheer you on when it's time to fall in love!
Why would you ever skip inspections?
Always remember, the home inspector is on your side. They are looking for unforeseen things that could go wrong with your new purchase. Investing now in a home inspection can lead to costly repairs and problems later on. Even with a new build- inspections are for your own good and you can thank us later. You're welcome in advance that we didn't let you skip your inspections.
Don't NOT stalk your potential new neighborhood
Now is the time, you have permission to stalk away! We encourage our new buyers to go stalk their potential new neighborhood. Get a feel for different times of day, your potential new neighbors and make sure this is a place you want to call your new home. Familiarity with the new neighborhood is something you will want to have to ensure that it is the best fit for your specific needs.
Ready to Find Home in the Greater New Orleans Area?
If you're thinking of buying a home in Louisiana, The Williams Team is here to help! When you partner up with one of our buyer's specialists, you can be sure you'll avoid making any of the above home buying mistakes! So what are you waiting for? Give us a call today and let us help you find home.