Prepare: Hurricane Preparedness for Louisiana Homeowners
Posted by Nicole Azzi Williams on Tuesday, June 2, 2020 at 1:53 PM
By Nicole Azzi Williams / June 2, 2020
Comment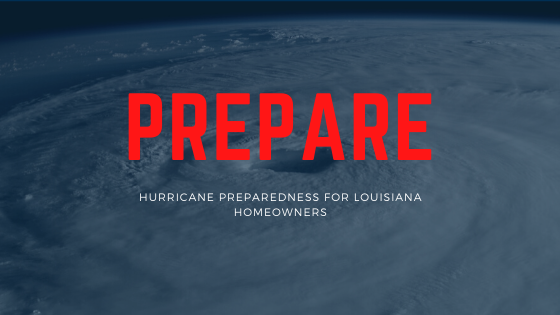 Hurricanes are more than just watches, spaghetti model, bread, milk, batteries and water. (Although, all of that is important, too!) These storms are a reality when living in any coastal area, and now is the time to prepare yourself and your loved ones for the impending season.
Here are a few tips for hurricane preparedness when it comes to being a home owner in south Louisiana!
1. Create an Emergency Plan with Your Family
Creating an emergency plan is the most effective way to ensure you can escape or weather the storm without suffering catastrophic injuries or property damage.Now is the time to create a disaster plan using checklists or whatever works best for you. Identify an ideal family meeting spot and map out ideal evacuation routes to use for major storms. Now is the optimal time to prepare your family to act fast when storm prediction models reveal a hurricane is on its way.
2. Identify Ways to Secure Your Property
Securing your property is extremely important when it comes to ensuring the high winds and floodwaters do not turn your unsecured outdoor items into projectiles. Assess your property for hidden hazards and best practices in firmly securing all loose items on your land, so that when the time comes to baton down the hatches, you are ready. Take inventory outdoors, to determine if you should trim back low-hanging tree branches, clear drainage elements and install a generator in case you need to shelter in place. Take action now to ensure your property is secured well before the next storm forms over nearby warm ocean waters.
3. Create Emergency Kits for Every Situation
Everyone in your household should have a go-bag and an emergency kit in their vehicle. You should also create an emergency kit to store inside your house in the event of a shelter in place situation. As you prepare, sit down with your family to plan and pack your emergency kits. Make essential checklists to ensure you have all the right items tucked away for your use while waiting for the storm to clear. When in doubt, pack extra of the items you think you may need without making the emergency kits too heavy to carry as you evacuate.
4. Perform Smart Upgrades for Your Home
Smart home upgrades can save you money and frustration in the long run by mitigating hurricane damage. As you learn about the major hurricane hazards, focus on identifying areas in need of improvement around your home and what you can do to improve upon those. Look into flood and wind prevention elements, including hurricane straps for your roof, waterproof building materials and storm shutters for your windows. Plan how you will integrate these elements into your home to reduce your need for major recovery after the hurricane ends.
Take advantage of this important time of hurricane preparedness to ensure you, your loved ones and your property can get through the storm with minimal repercussions.