Prepping Your Home For Professional Photography
Posted by Nicole Azzi Williams on Tuesday, June 9, 2020 at 9:59 AM
By Nicole Azzi Williams / June 9, 2020
Comment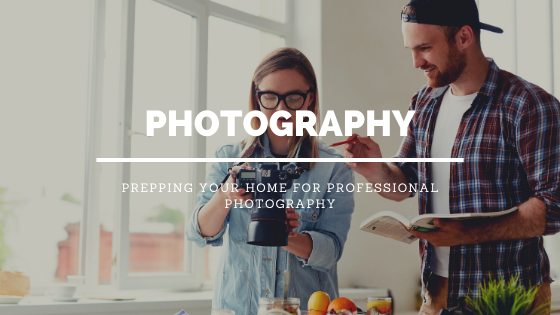 Prepping Your Home For Photography
For most home buyers, the first time they see a home will be on a website or social media.
If a home appears dirty or cluttered, or if the photos do not display the best angles of the house, there is a high chance that buyers will skip over that house and move on. Having clean, professional photos of your home is an extremely important part of the listing process, in order for your first impression to be the best impression.
We've created a step-by-step guide to preparing your home to be professionally photographed! When you list with The Williams Team, we provide professional photography to all of our listings so here are a few things to consider before we send them out...
Exterior
Did you know that the front exterior shot of your home will be the very first image that buyers see on home search websites? Before scheduling photographs of your property, make sure that the lawn is mowed, flower beds are weeded, and your yard is tidy and well maintained. Walkways, patios and decks should be swept, lawns should be raked in the fall, and dead limbs should be removed in the winter. Store any yard and lawn equipment, trash and recycling bins in the garage and shut the door. You'll want to make sure that cars are out of the driveway when the photographer arrives for photos. In the summer, open up any umbrellas and remove grill covers. These simple touches can make a world of difference.
Interior
The interior of your home should be as neat and organized as possible for photographs. It is important to dust, wash windows, vacuum, mop, and look at your home with the view of a first time home buyer. Declutter counters and put away any personal items, including photos and decor. Some tasteful decor is okay, but too much can make the room feel small and make it harder for buyers to envision themselves in the home. Pets and their food bowls, toys, beds/crates, litter boxes, and other items should be kept out of sight while the photographer is taking photos. Make sure your furniture is arranged in a way that adds value to your listing, by making the rooms look as large, open and airy as possible.
Lighting
The best way to showcase your home in the most attractive way possible is lighting, lighting, lighting. Be sure to turn all interior lights and lamps on, replace any burnt out bulbs, open all curtains and blinds, and keep ceiling fans off so they do not appear as a blur in photos. If possible, ensure that all light bulbs have the same color temperature so that your home will have a cohesive tone throughout.
Kitchen
Be sure to remove any papers and clutter from kitchen counters and islands, including small appliances (one or two are fine). The refrigerator should be clear of any lists, photos, magnets, etc, and the sink should be free of any dishes, soaps and sponges.
Bedrooms
Make all the beds and check the length of the comforter and bed skirts to make sure they are even. Excessive, mismatched decorative pillows and stuffed animals should be removed from the beds, and any items stored under the bed should not be visible from each corner of the room. Be sure to tuck any jewelry, personal items, and other valuables out of sight.
Bathrooms
When you think the bathroom is clean, clean a little more! Counters should be clear of all personal items. Shampoos, conditioners, etc. should be removed from showers and tubs, and garbage cans should be concealed. Decorative matching towels should be displayed neatly, and toilet lids should be kept down. We also recommend placing a fresh roll of toilet paper on the holder. Don't forget to wipe down your mirrors!
Follow this guide and your home is sure to sparkle in photographs! When you list with The Williams Team, we will provide a professional photographer and help you ensure that your home is looking really great and will attract the perfect buyer.