Pride Month: Today and Everyday We Support You
Posted by Nicole Azzi Williams on Wednesday, June 24, 2020 at 9:57 AM
By Nicole Azzi Williams / June 24, 2020
Comment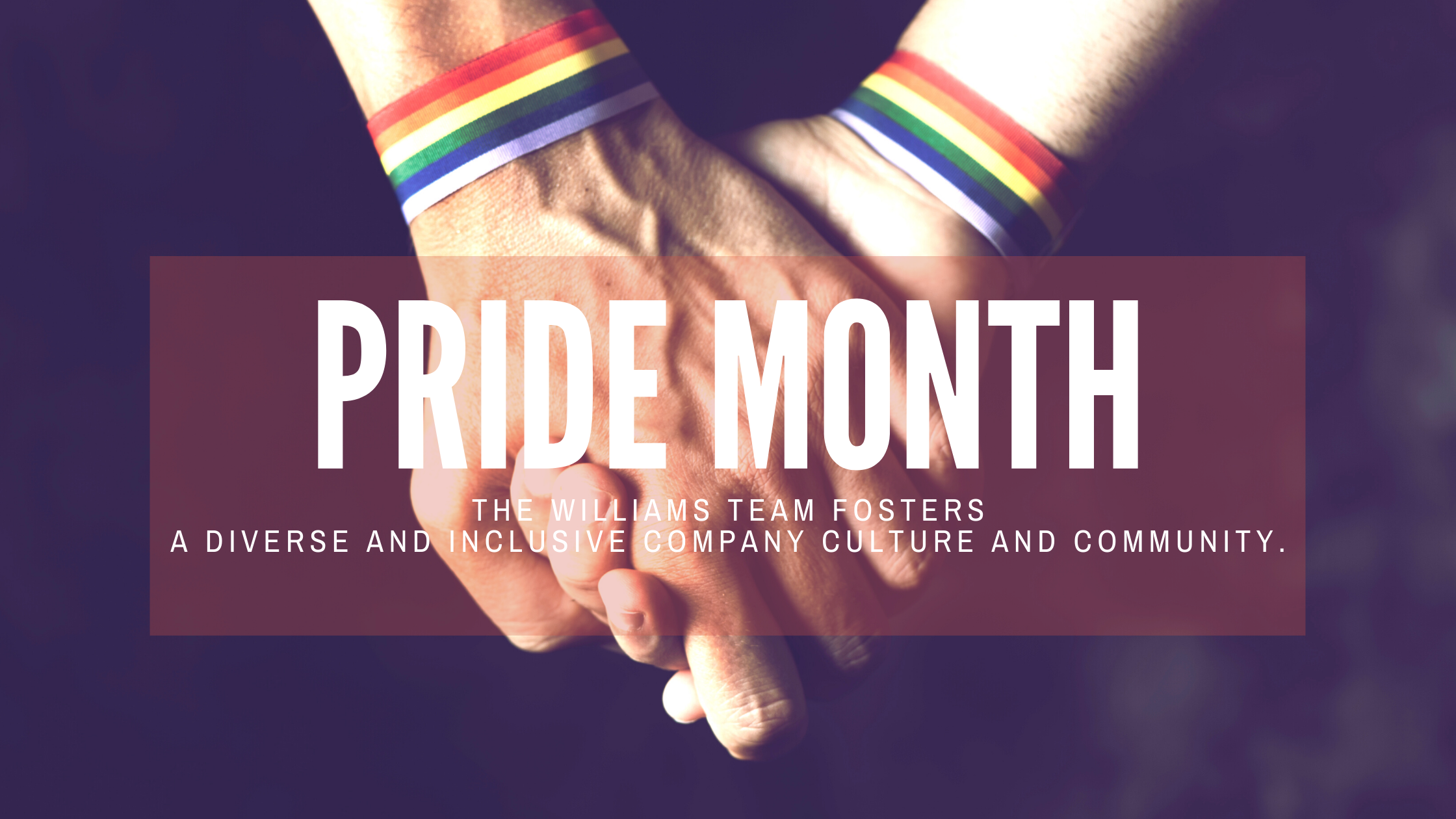 June is Pride Month
Here at The Williams Team, we are proud to walk shoulder to shoulder with our LGBTQ+ colleagues, residents and community members!
Pride is about showing up, sharing and being exactly who you are. At The Williams Team, we encourage and embrace these values. Our team code of ethics fosters a diverse and inclusive company culture and community.
During the month of June (and every day), we are celebrating the Lesbian, Gay, Bisexual, Transgender, Queer or Questioning (LGBTQ+) Community. Across the globe and locally here in the greater New Orleans area, various events are held to recognize the impact the LGBTQ+ Community has around the world. This year, due to COVID-19, these events may be held a bit differently than they are traditionally. Many cities are offering virtual opportunities to connect, share and learn. We encourage you to research how your local community will be celebrating. Need help with this? Message us, and we will help!
It has never been more apparent than it is in the current day and age that diversity, inclusion and respect are the cornerstone of a healthy, happy and forward moving society. Our team is proud to walk shoulder to shoulder with our LGBTQ+ colleagues, residents and community members in celebrating PRIDE.
If you are not able to join the virtual gatherings and festivals, there are still ways to get involved and show your Pride such as posting messages of support on social media, decorating your home, cars, etc. for Pride month. Tag us in your photos we would love to see! You can also review the tips on how to be an ally to the LGBTQ+ Community in New Orleans at https://togetherwenola.com/pride/about-us/ the home of New Orleans Pride where "We aspire to create One CommUNITY, bringing together individuals from all walks of life, through our family friendly events that are welcoming to all."
About Pride Month
Pride month occurs during June in honor of the Stonewall Riots, which took place in June 1969. Pride initially began as "Gay Pride Day" on the last Sunday of June, but soon grew to encompass a month-long series of events. Celebrations now include pride parades, picnics, parties, workshops, concerts, etc. Memorials are also often held during this month to recognize members of the community who have been lost to hate crimes or HIV/AIDS. Overall, Pride serves as a movement to celebrate diversity and is a way of protesting against discrimination and violence. It promotes dignity, equal rights, self-affirmation and is a way of increasing society's awareness of the issues faced by the LGBTQ+ Community.
History of Pride in New Orleans (from TogetherweNOLA)
New Orleans Gay Pride began in February 1971, when the newly formed Gay Liberation Front of New Orleans presented a "Gay In" picnic in City Park. This was the very first such event in the entire state of Louisiana.
Throughout the 1980s, several organizations spearheaded the annual events. The first street parade was held in 1980. In 1981, the event moved to Armstrong Park, and was emceed by New Orleans native Ellen DeGeneres. In 1988 "Gay Fest" was changed to "Gay Pride."
By the 1990s, "Pridefest" was being sponsored by the New Orleans Alliance of Pride.
In 2005, Gay Pride was presented by the LGBT Community Center of New Orleans. In 2011, The LGBT Community Center decided to no longer produce the Pridefest event and gave all rights for PrideFest to the 2010 and 2011 local Grand Marshals.
In 2011, The New Orleans Pride Organization was formed as its own organization and acquired a 501(c)(3) status. The 2011 "New Orleans Gay Pride Festival" consisted only of a parade, pageant, and block party on Bourbon Street with 80's pop star, Tiffany. In 2012, the festival officially became "New Orleans Pride." Since then, The New Orleans Pride Board has restructured the organization to foster positive relationships between all communities in New Orleans.
The 2019 New Orleans Pride Festival was the largest Pride Festival to ever take place in Louisiana. 42 events took place over a three-day weekend, attracting people from all walks of life. The Festival brought in more than 94,000 participants, 4,000 of which were in the New Orleans Pride Parade, Louisiana's Largest LGBT+ Parade.