The Difference Between Hiring A Buyers or A Listing Agent To Sell Your Home
Posted by Nicole Azzi Williams on Wednesday, January 13, 2021 at 11:10 AM
By Nicole Azzi Williams / January 13, 2021
Comment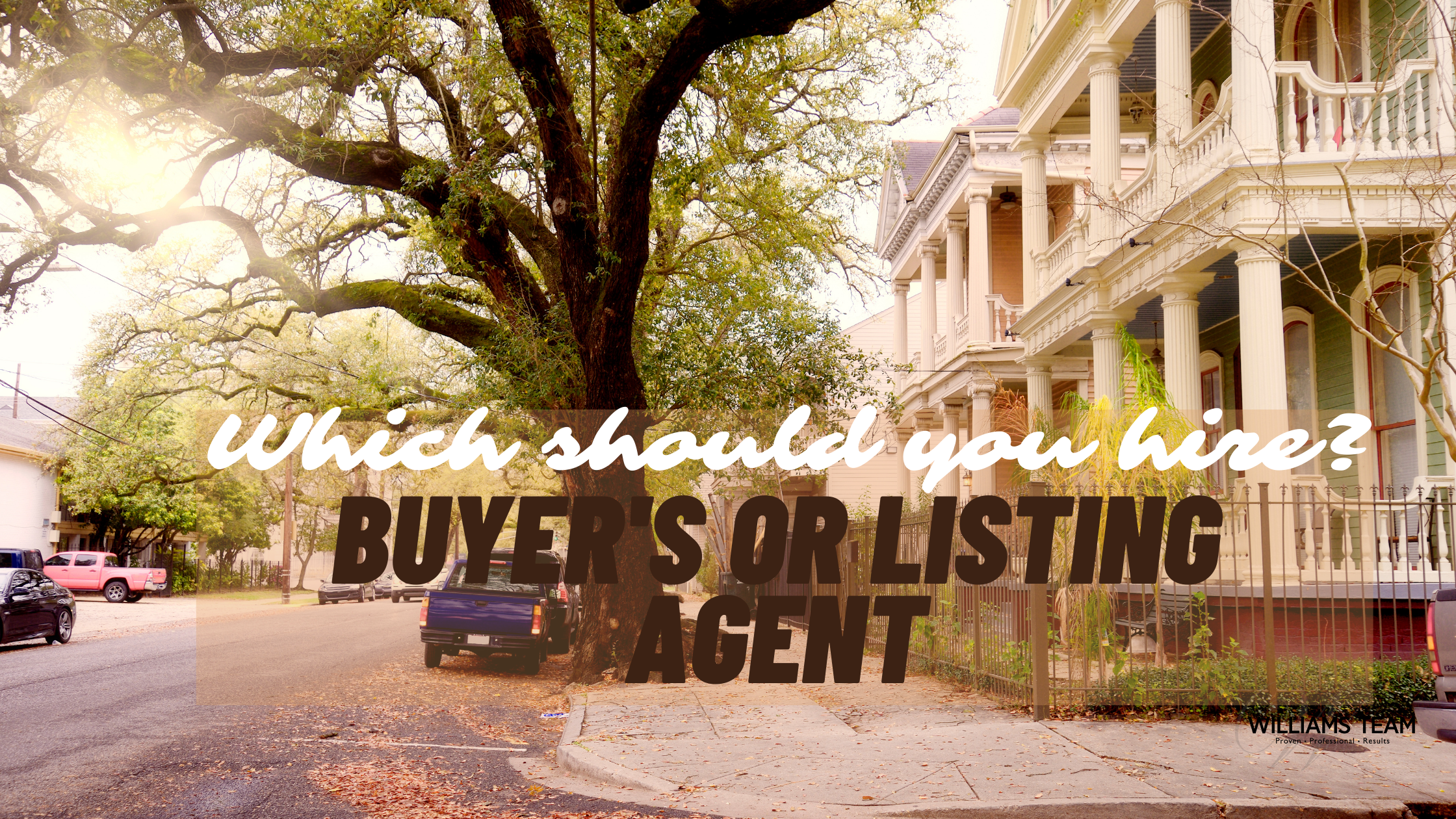 You have officially decided to sell your home... Next step… Find an agent!
The process of finding the right agent is something most people take seriously. So, while doing your research, you'll often come across two terms you may not be familiar with or may simply skim over: buyer's agents and listing agents. One common misconception is that any real estate agent should be considered to sell your home, these terms indicate a difference in background, experience and perspective when it comes to the process of selling a home. Here's what you should consider before you decide to interview a buyer's agent or a listing agent:
What is a Buyer's Agent?
A buyer's agent is puts the best interests of the buyers in mind. In fact, a buyer's agent contract will clearly state their fiduciary responsibility to the buyer. Buyer's agents are diligent about everything relating to condition: Disclosures, inspection reports, making sure that any updates and repairs were reported properly, among other things. Buyer's agents generally have an eye trained to spot potential problems when they see them. The goal of a buyer is usually to pay the least amount of money for the property that suits their needs, and a buyer's agent is there to help them negotiate that price.
Having a keen eye to condition translates into knowing where they can negotiate on price. A buyer's agent usually knows what can be changed easily and the improvements that would add value to a home.
For some sellers, hiring a buyer's agent is an attractive idea because you'd theoretically benefit from their specialized insights. Buyer's agents show so many homes and spend so much time with buyers, you'd potentially get a peek into the minds of what potential homeowners want right now. However, hiring the buyer's agent that helped you find your home to sell it a few years later may not be the best option. We will dive into why...
Can a Seller Hire a Buyer's Agent?
The answer is generally yes. However, there are a few potential issues to consider. Remember, buyer's agents are obligated to the best interests of a buyer, not a seller, and this is usually where they spend the most time. So, exclusive, experienced buyer's agents likely will not work with a seller.
On occasion, buyer's agents will work with a seller who will need to buy a property in the same area by handling both transactions. If you don't want to make multiple calls to multiple real estate agents, having sole representation for both transactions would cut down on the back-and-forth, but make sure to weigh out the pros and cons before making such an important decision. Experienced agents should always be willing to help you weigh out these pros and cons and should be up front and honest with you about where your best interest lies.
Keep in mind, there are real estate agents who are generalists, but have expertise representing buyers and may even market their experience as a buyer's agent on their websites. This does not always mean that they are exclusive buyer's agents. You can ask these real estate agents to "put on their buyer's agent" hat (so to speak) as you work together.
What is a Listing Agent?
A listing agent is a real estate agent who specializes in working with sellers. They have a seller's best interests in mind, which is to get the most money for their property and sell it as quickly as possible. Listing agents may also have specific expertise in a type of home: Historic homes, luxury properties, townhouses, condos, vacation homes, or even specific styles (like mid-century modern homes), but in our area, with such a diverse property types, most listing agents work with multiple types of properties.
Like a buyer's agent, a listing agent is focused on making a sale. However, the route they take to get to the sale and their daily priorities are a bit different. Their job is to achieve or exceed your asking price and do it in a timely manner. These agents are able to help price your home based on comparable properties, plus specifics to your home that may add value. Listing agents do their due diligence daily to stay abreast of the market values in your area. Listing agents develop a marketing strategy to get buyers and agents interested, presenting your home in the best light. A listing agent will also spend time on staging your home and other changes you can make to bring out the beauty of your home.
Listing agents have insights on what convinces buyers to make an offer on a home They know how to distinguish your listing from similar homes in the area, and how to adjust your strategy based on current local marketing conditions, communicating any important changes to you along the way. Further, listing agents have an advantage when it comes to negotiation. They're more likely to set a more aggressive asking price than an agent who deals more with the buyers' side of transactions.
Why Should I Hire a Listing Agent?
When hiring an agent to sell your home it's important to understand the different aspects that go into the sale. Consider things like preparation of the home to sell, marketing strategy, a convenient showing process and negotiation ability. An agent that specializes in listing and selling homes will be prepared with a plan for your listing to come to market in the most effective way possible. Always ask to SEE the plan.
Often times, what happens before a property is listed are the most important parts of selling the property. Listing agents should be able to present to you their pricing strategy, staging, photography, videography, and online marketing. Experienced listing agents have proven tactics for each of these and this is something to always ask and know when choosing the right agent for you. Once you're ready to list your home your listing agent will walk you through all of the steps of the process. They will be there to help you walk through multiple offer situations and answer any questions you may have during this negotiation process.
A buyer's agent may not be prepared or trained to handle all of the aspects of the sale as efficiently and successfully as a listing agent. Not because they are not an excellent agent, but simply because, as with most careers, agents generally lean one way or the other when establishing their career as an agent. Now more than ever, having an expert in your corner during a real estate transaction is vital to the sale of your home. The market is progressive and ever changing so choose wisely!
Here at The Williams Team, we have both buyers and listing agents, who meet regularly to consult the changing market conditions on both sides of the spectrum, so rest assured that when you hire our team, you can have the best of both worlds in your corner! Give us a call to see what our team can do for you!