TWT Foodie Finds
Posted by Nicole Azzi Williams on Friday, January 8, 2021 at 1:16 PM
By Nicole Azzi Williams / January 8, 2021
Comment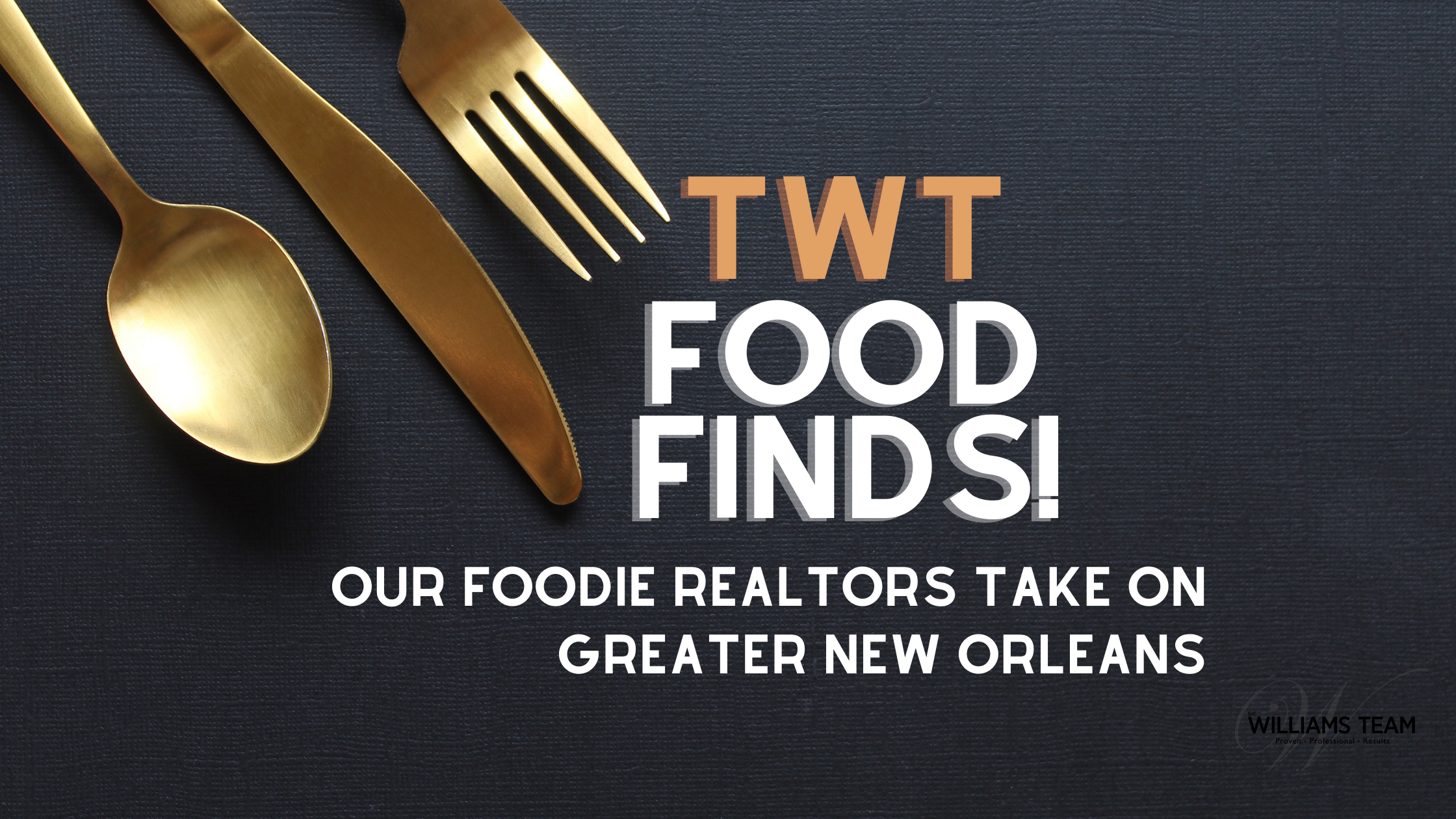 If there's one thing you should know about this team our favorite things to do are: Buy and sell houses and eat.
Luckily for all of us, we live in the best state AND city, in our opinion, for the best food in the world. So, while we all love to cook, chances are, in our Monday meetings we also discuss our new restaurant finds of the weekend. New Orleans is one of the most FUN places to find new and unique restaurants, both in the city and in the outskirts, like the Northshore.
Keep in mind that during the current world situations, if you're not comfortable with dining out, or your favorite restaurant is only offering curb side pick up or delivery, ordering a meal out is a great way to support local businesses and in turn help our neighbors and our local economy. Eating a great meal AND having it help others- sounds like a WIN - WIN to us.
So for this blog, we have composed some of our favorite places to grab food both in town and on the Northshore. We will post more soon, because, while this list is really great, it's certainly not ALL of our favorite places… we would need another blog or 20 to list ALL OF them.
However, if you're looking for a great place to eat or order food, check out one of these and let us know what you think. I asked each of our team members, off the cuff, to quickly tell me their favorite place to eat when I give them a category. Here are their responses!
Steak - I asked Louis, our CEO for his favorite steak because I know this is his all time favorite meal. He quickly let me know his go to for steaks is, hands down, Gallaghers 527 just off the causeway in Mandeville. Founder Pat Gallagher has deep roots here in St. Tammany parish and has become a world renowned restaurateur. The fact that his dad, Hubie Gallagher was inducted into the HS Football Coach hall of fame may be one of Louis' favorite Gallagher's facts… but their food is for sure the best. Louis also loves that, being a newlywed, this is a really great spot to take his wife out for a nice dinner with a nice ambiance.
BBQ- When I approached our transaction coordinator Rene about his fave BBQ in the area, he had a funny answer. Blue Oak BBQ in New Orleans for their amazing salad! Sike! That's the food that my food eats; I go there for the brisket! If I can tell you one thing about Rene it's that his sense of humor keeps the team on our toes. I can also tell you that every Monday at our staff meeting, he tells us all something he cooked on his BBQ or smoker the previous weekend. So, for Rene to give Blue Oak such accolades, you better bet, their BBQ is something you surely should check out!
Lagniappe - Ok. Honestly, I didn't know what to call this category. I asked David, our listing specialist for his favorite French restaurant because he really loves fine dining. He gave me FOUR restaurants all of which were not French, but sound fabulous. If David recommends it, you better bet it's fabulous because he has a taste for the excellent and is quite the chef himself, having actually worked with a world renowned chef at one point. David highly recommends Costera, a coastal Spanish restaurant and bar by co-owners Chef Brian Burns and Restaurateur Reno De Ranieri located at 4938 Prytania Street, on the corner of Robert Street in New Orleans' Uptown neighborhood district. Costera features coastal Spanish cuisine, highlighting local produce and Gulf seafood in a casual, communal-dining setting. He also recommended Ghallagher's (mentioned above). David suggested checking out Palmettos in Slidell for an amazing steak. His other rec was Rock-N-Sake Sushi (because when someone asks about French food, ummm sushi! HA) in Metairie.
Seafood- Our team leader/buyer specialist Nicole has a very refined palette and has eaten some of the best food from all over the world. So, I thought when I asked her about seafood, a NOLA staple it may throw her off her food game but nope, she was the first to answer! Nicole said a resounding Mandeville Seafood Market, where she suggests trying their boiled shrimp and crawfish, but she also randomly threw in that they have some of the best french fries she has ever had! Who would have known. I can't wait to try them.
Pizza- Born and raised in NOLA, our buyer specialist, Kristin, is my go to for NOLA dining. I asked her to tell me her favorite place in the area for pizza. She said Tower of Pizza in Metairie is the best, so I believe her. Judging by their menu, this place looks amazing.
Thai/Vegan- This is the category I gave myself, Holly, the team marketing director and vegan of the group. I have recently discovered a love of Thai food and when I polled all my local friends they suggested I check out Sawasdee in Mandeville and it rocked my world! In fact, my husband, daughter and I ate there TWO nights in a row this week. My favorite things there are the avocado rolls and the Massamun curry with tofu. I am not even a fan of tofu but whatever they do to theirs makes it simply delicious. My other go to vegan place is Breads on Oak. I go all the time and still ask myself HOW the food I am eating could possibly be vegan. They also have such an old world feel, with fresh baked breads (low gluten) and pastries (all vegan) that will knock your socks off.
We hope this gives you some ideas of maybe something new to try this weekend or whenever you feel the urge to grab some take out, or go out with the family. More suggestions coming soon, I am sure. Have I mentioned that we love to eat?
-Holly Croteau
Marketing Director, TWT